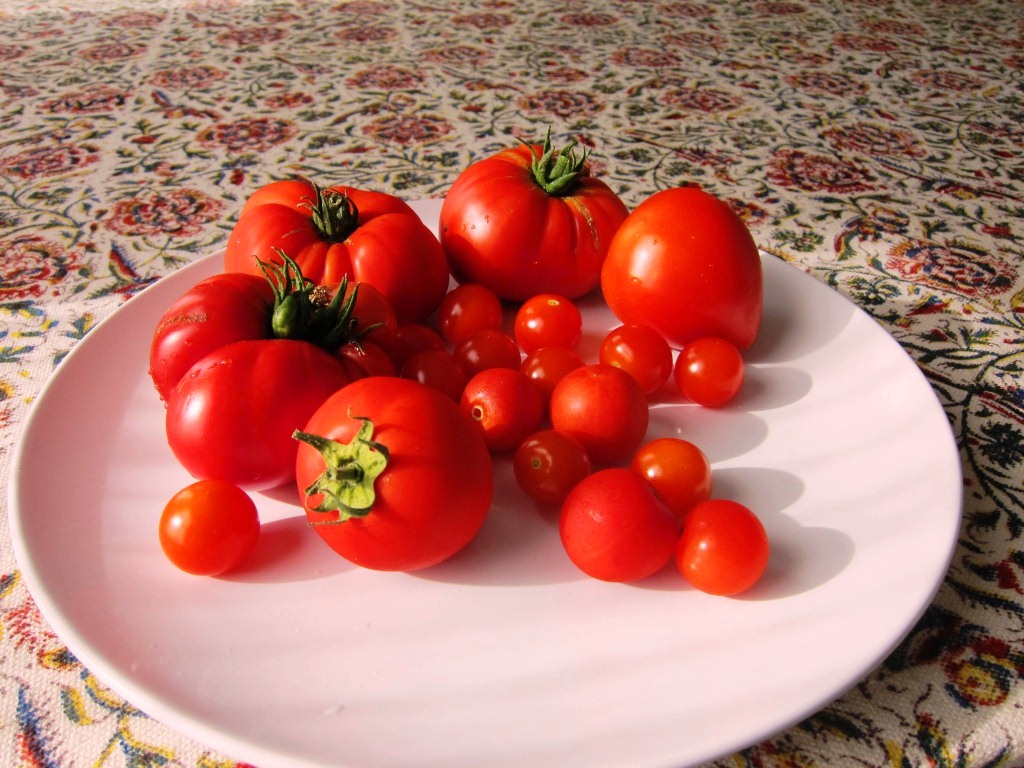 It's been awhile, but I come bearing excuses! In the time since my last post I've graduated from law school, studied for and taken the bar, moved across the bay from San Francisco to Oakland (more on that later), and become an uncle. All of which is fine and fascinating for me, but leaves my blog bare and neglected.
However, this isn't to say I haven't been eating. I have been, prodigiously. I just haven't been writing about it. I may do a post with assorted pictures of meals past, but it is much more likely that I will focus on the bounties I have been given in the trans-bay move: namely, a large kitchen, an antique stove, and a new garden.
When I started this blog a few years ago I had a galley kitchen equipped with a 4-burner electric stove. It held two people at maximum capacity and even then, you bumped and brushed up against one another as you jockeyed for the minimal counter space. So, moving from that cubbyhole into my new kitchen has been a wonderful adjustment. Best of all, it comes with an antique Wedgwood gas stove complete with a flat top griddle (perfect for pancakes) and a broiler. I'm still getting used to just how much heat it can put out, but again, it is a welcome change from my old electric stove.
I had hoped to start a rooftop garden in San Francisco, but work and studying crushed those dreams to a fine non-biodegradable powder. However, my new place came with a girlfriend (it was a great deal) who is quite adept at gardening. I have learned a fair amount from her already, but at this point my skills are largely limited to watering and harvesting.
Unfortunately, as we have been here only a few weeks, nothing is ready to harvest except for tomatoes. Lots of tomatoes. My girlfriend brought a few plants over from her old place (including an heirloom) and the previous tenants had a few in the ground, both roma and plum. Then, when my dad visited, he brought a basket of plum and beefsteak tomatoes from my sister's garden.
So, we are basically swimming in tomatoes.
Yesterday I decided the solution was… tomato soup!
After checking to make sure the broiler and oven were working (the Wedgwood was a bit finicky at first), I decided the solution was… roasted tomato soup!
The recipe can be boiled down to a few steps:
Roast

tomatoes, onions, and garlic.

Simmer

roasted tomatoes, onion, and garlic in chicken stock.

Blend

.
It's strikingly similar to the post preceding this one regarding
butternut squash soup
. As a matter of fact, you can prepare either one either way (i.e. roasting your squash and onions, then simmering, then pureeing OR sauteeing your onions, adding your tomatoes and simmering, then pureeing). I used stock that I had made myself, but feel free to substitute stock or broth of any variety (e.g. vegetable or beef; I would probably stay away from seafood stock for this one).
I used the broiler to blacken the tomatoes a bit, then threw them in the oven along with some onions and garlic to roast at 400 F for about 30 minutes. The broiler was largely superfluous. I just wanted to play with the broiler so, in that sense, it was a success. However, roasting the tomatoes, onions, and garlic is sufficient and you don't need to waste time and energy by broiling them as well.
You'll notice in the above picture I removed some of the peels. In retrospect, I wish I hadn't removed as many of them as I had. I like the charred, smoky flavor that they add and it wasn't as prevalent in the finished soup as I thought it would be.
It was at this point that I tasted the soup and noticed just how acidic it was. In order to cut the acidity I added a spoonful of wildflower honey and a half-spoonful of brown sugar. This helped quite a bit.
Next, blending (I remembered to remove the bay leaf). I've got to get me an immersion blender.
Lastly, eating.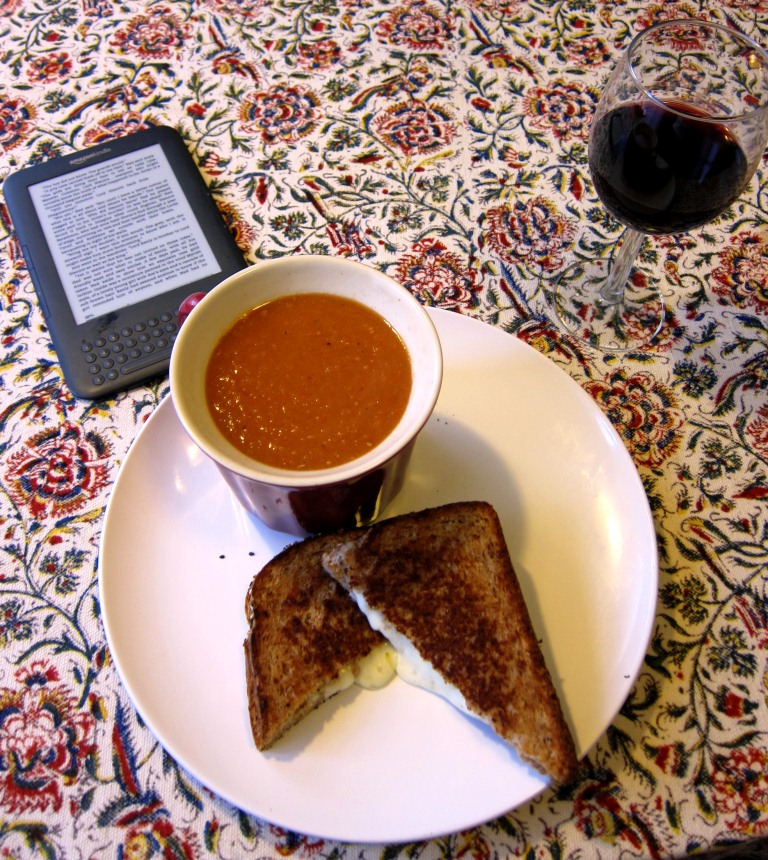 It certainly wasn't perfect, but it still accompanied my grilled cheese, wine, and Game of Thrones quite well.
Next time, I will use riper tomatoes, no broiler, more blackened peels, and perhaps less stock.
More importantly, "next time" should hopefully be sooner than 3 months from now.
With that, I'll leave you with one gratuitous oozing cheese picture.